Adoptable Cats
See our feed below from PetFinder for our currently available cats for adoption, and apply to adopt under our "Resources" menu at the top of the page!






Meet our lovely 3 year old half Persian Stardust. She is very playful, loves her catnip toys! She's super friendly, and lovingly affectionate with her people. She has classic long haired Persian fur and will need daily pampering. She's a sweetheart looking for that perfect forever home that fits her needs. She has one green eye and one blue eye. Stardust is deaf. She wants to be your only princess and seems to prefer the company of women. Stardust is spayed, microchipped, vaccinated, de-flead and de-wormed. Her adoption fee is $225.00 If you are interested in Stardust please contact her foster at cherry.martini@yahoo.com or 808-652-5959 to schedule a meet and greet. Located near Maple Valley
Adult, Female, Medium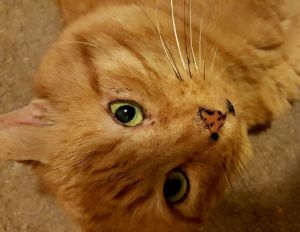 Eddie came to us as an unaltered 8 to 10 year old stray. Eddie is a big love bug unless another animal, especially cats, are around. He is aggressive if another cat is near. He would love a home where he could go in and out as long as it's not near a busy road and there are no other cats around, otherwise it's best to keep him inside. Eddie has led a rough Tom cat life and as a result is FIV positive. He can have a long life though, many FIV positive cats do. Can you provide a safe home for Eddie to live his golden years? Eddie is neutered, microchipped, FELV negative, de-wormed and de-flead. Please contact his foster at cherry.martini@yahoo.com or 808-652-5959 if you are interested in Eddie. Adoption fee is $40. Located near Maple Valley.
Adult, Male, Not known